In today's connected world, peace of mind and security are of utmost importance. With advancements in technology, it's now possible to enhance the safety of your living space with innovative surveillance solutions.
One such cutting-edge product is the Noorio T110 PTZ indoor camera, which offers a wide range of features, including 2K Ultra-HD details, anthropomorphic recognition, and intelligent identification. With no monthly fees and the convenience of a two-way intercom, this camera provides a comprehensive security solution for your home. In this article, we'll explore the power of PTZ indoor cameras and how they can bring peace of mind and unparalleled security to your living space.
1. Introduction to PTZ Indoor Cameras
PTZ (Pan-Tilt-Zoom) cameras are a type of surveillance camera that allows for comprehensive monitoring of indoor spaces. They can pan (rotate horizontally), tilt (rotate vertically), and zoom in or out to provide a wider field of view and more detailed monitoring. The Noorio T110 PTZ indoor camera is an advanced option that offers these capabilities and more. The camera's unique features include:
Anthropomorphic recognition
Intelligent identification
2K Ultra-HD details
No monthly fees
Let's delve deeper into these features and understand how the Noorio T110 PTZ indoor camera can enhance your home security.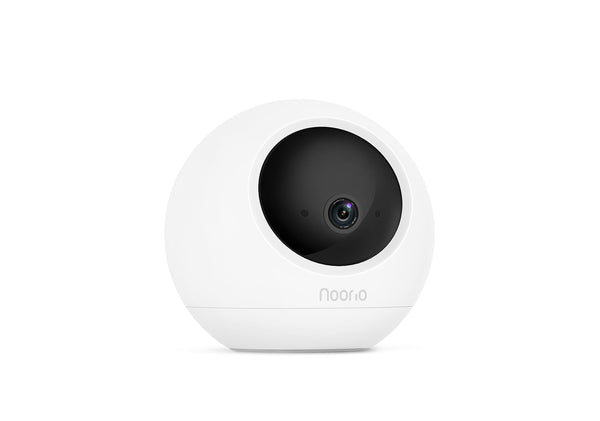 2. Viewing Your Home from All Angles: The Power of Pan, Tilt, and Zoom
A wide field of view is crucial for comprehensive indoor surveillance. The Noorio T110 PTZ indoor camera offers:
Versatile viewing angles

: The camera can pan and tilt to cover a larger area, ensuring that you can monitor every corner of the room.

Zoom capabilities

: The camera can zoom in to capture detailed images of objects or people, providing an extra level of security.
With the power of pan, tilt, and zoom, the Noorio T110 can easily capture important moments, such as your child's first steps or your pet's antics, and ensure comprehensive security for your home.
3. 2K Ultra-HD Details: Enhancing Clarity and Visibility
High-definition footage is essential for effective monitoring and identification. With its 2K Ultra-HD resolution, the camera provides:
Superior image quality

: High-definition footage ensures that you can clearly identify people, objects, and any potential security threats.

Improved visibility

: Even when the light is on at night, the picture definition remains high, allowing you to monitor your home effectively.
The Noorio T110 camera offers a superior 2K Ultra-HD resolution with three times the details of regular 1080p. See everything clearly, even in low light or at night:
2K (2560 x 1440) recording and streaming: Provides stunning clarity for capturing details like facial features or license plate numbers.
Wide Dynamic Range: Balances light and dark areas of the image for visibility even in high-contrast scenes.
IR cut filter and IR LEDs: Day/night visibility with good color representation during the day and infrared mode at night. The IR LEDs provide a visibility range of up to 33 feet.
265 compression: Reduces file sizes by up to 50% compared to H.264 while maintaining the same video quality. This allows for less bandwidth and storage usage.
Exceptional image quality gives you confidence in identifying anything or anyone the camera captures. Combined with pan/tilt/zoom, the Noorio T110 indoor camera leaves nothing to chance when it comes to securing your home.
4. No Monthly Fee: Cost-Effective Surveillance Solution
Many home security systems come with recurring fees, which can be a deterrent for some homeowners. The Noorio T110 PTZ indoor camera addresses this concern by offering a one-time investment with no compromise on quality or features. The camera's benefits include:
No monthly fees

: The Noorio T110 provides a cost-effective surveillance solution without the burden of ongoing costs.

Quality and features

: With its advanced capabilities and superior image quality, the Noorio T110 offers an attractive option for those seeking a reliable, affordable security solution.
The Noorio T110 PTZ indoor camera provides a one-time investment for your home monitoring needs. After purchase, there are no monthly fees or subscriptions required to access features like:
Live view and video recording: Monitor in real-time and receive motion alert notifications. The camera supports microSD cards up to 128GB for optional continuous, motion-triggered, or scheduled recording.
Cloud storage (optional): Save videos and snapshots to optional Dropbox/FTP storage. There are no monthly fees when using your own storage solution.
Motion tracking: Pan/tilt to automatically track moving objects. No add-on purchases are needed.
Mobile apps (Android/iOS): Free apps to view the live feed, receive alerts, control the camera, and use your smartphone or tablet.
While competitors charge recurring fees for cloud storage or advanced features, the Noorio T110 camera gives you more value for your money with no strings attached. Gain peace of mind knowing your one-time investment in a PTZ indoor camera provides ongoing security for your home.
5. Anthropomorphic Recognition and Intelligent Identification
The PTZ home security camera boasts advanced features such as anthropomorphic recognition and intelligent identification. These capabilities offer:
Enhanced security

: Intelligent identification reduces unnecessary notifications by distinguishing between humans, pets, and other objects, minimizing false alerts.

Reduced false alarms

: Anthropomorphic recognition helps the camera focus on human activity, ensuring that you are alerted to any potential security concerns.
Anthropomorphic recognition: Detect humans and distinguish between people, pets, vehicles, and other objects. Minimize false alerts from movements like tree branches swaying.
Intelligent identification: Create "areas of interest" zones within the camera's view and receive notifications only when motion is detected within those zones. Reduce unwanted alerts from activity outside the zones of interest.
Targeted tracking: Lock onto specific individuals or objects moving within the camera's view. The camera can follow the tracked subject with pan and tilt, even if other movement occurs in the scene.
Advanced recognition and selective identification mean you get notified when it really matters. Combined with 2K Ultra-HD clarity, feel confident knowing the camera can detect and identify humans and capture identifying details if needed for your records.
6. Implement Viewing Anytime, Anywhere: Remote Access and Control
With the PTZ indoor camera, you can view live footage and manage camera settings from anywhere using a smartphone or computer. This remote access and control offers:
Peace of mind

: Knowing that you can monitor your home at any time, from anywhere, provides a sense of security and reassurance.

Flexibility

: Remote access allows you to adjust camera settings and view live footage as needed, giving you control over your home surveillance.
Live view: Check in on your camera feed in real-time from anywhere with an internet connection. Make sure pets have food/water, or see if a package has been delivered. Knowing that you can monitor your home at any time, from anywhere, provides a sense of security and reassurance.
Control PTZ and more: Remotely adjust the pan, tilt, and zoom as well as camera settings like resolution and night vision mode.
Receive alerts: Get notified of important events like motion detection even when away from home. Alerts include snapshot images so you see what triggered the alert.
Viewing anytime, anywhere provides flexibility and peace of mind, knowing you have visibility into what's happening at home when you're away. Combined with PTZ control, it's like you never left. The convenience of accessing and controlling the Noorio T110 remotely ensures that you can keep an eye on your home, even when you're not physically present.
7. Two-Way Intercom: Enhancing Communication and Interaction
The Noorio T110 PTZ indoor camera features a two-way intercom that allows for real-time communication with family members or pets. The intercom functionality provides:
Monitoring and safety

: The two-way intercom can be used to check on loved ones or deter intruders by speaking through the camera.

Interaction

: Communicate with family members or pets, providing reassurance and connection even when you're not at home.

Listen in

: Hear audio from the camera's built-in microphone to listen for sounds indicating activity or unauthorized access.

Deter unauthorized access

: Turn on the intercom to let individuals on your property know they are being monitored and should leave the area.

Check on pets or kids

: Quickly speak through the camera to comfort pets or make sure children are doing okay when you're not home.
The two-way intercom feature of the Noorio T110 enhances the overall surveillance experience and allows you to stay connected with your home and loved ones.
8. Conclusion
In today's connected world, peace of mind, enhanced security, and convenience are essential. By incorporating advanced features like anthropomorphic recognition, intelligent identification, and 2K Ultra-HD details, the Noorio T110 PTZ indoor camera provides an unparalleled security solution for your living space. With no monthly fees and the convenience of a two-way intercom, this camera offers a cost-effective and comprehensive surveillance option for your home.
It's time to explore the power of PTZ indoor cameras and experience the benefits they bring to your home surveillance needs. Discover the revolutionary Noorio T110 PTZ indoor camera and embrace the peace of mind and enhanced security that it provides.
Key features and benefits of the Noorio T110 PTZ indoor camera include:
Wide field of view with pan, tilt, and zoom capabilities
2K Ultra-HD resolution for superior image quality and visibility
No monthly fees for a cost-effective surveillance solution
Anthropomorphic recognition and intelligent identification for accurate monitoring
Remote access and control for peace of mind and flexibility
Two-way intercom for enhanced communication and interaction
Embrace the future of home surveillance with the Noorio T110 PTZ indoor camera and unlock the peace of mind you deserve.